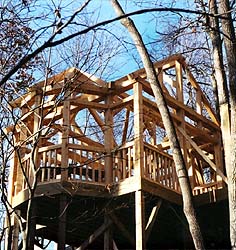 We are the ancient masterbuilder—a design-build professional of the 21st century, having a 5,000-year history extending all the way back to the building of the pyramids of Egypt and the world's first civilizations. The most beautiful places in the world—whether houses, villages, or cities—were designed and built by the masterbuilder, an artist of the built environment. Today's architect has only been around for about 100 years—a relatively short period of time (see Dana Cuff, Architecture: The Story of Practice [MIT Press, 1991], p. 24). We are what he used to be.
Our organization was established in 1994 by six partners dedicated to reintroducing the masterbuilder back into society for the good of humanity. We are a Christian organization devoted to bringing God's beauty into the world to better people's lives and improve the human condition. An important part of our purpose is to make serious art and design affordable and widely accessible to all—which is possible only through the masterbuilder method with its unique processes and operational efficiencies. Furthermore, we apply different thinking to everyday patterns of life to make places that promote a sense of well-being—places that meet the most fundamental, and even unarticulated, human needs. Our informed position is that beauty—deep and enduring—is not an extra nor a luxury, but a primordial necessity of existence, a vital need of all life on earth.
When a project comes to us, we take it from design all the way through to the end of construction. We produce the necessary drawings, specifications, and cost estimates; obtain all building permits, construction materials, and inspections; and secure all subcontractors necessary for the work.
A partner is on-site throughout the entire construction phase, participating in the building activity and overseeing all subcontractors and building operations. You, the client, have the peace and convenience of dealing with only one person throughout the entire project from start to finish. We look forward to working with you.
We are architecture-degreed masterbuilders with a general contractor license. We are not architects. Rather, we are design-build professionals. Our organization is a unified and interdisciplinary group. Here, broadly held expertise in various areas, is preferred over compartmental specializations. Such an approach is crucial to innovation and making living places of profound beauty. We are scholars and builders, designers and craftsmen, artisans and artists, all-in-one; focused on shaping built environments for human comfort and well-being. Our solemn mission is to do this in a thoroughly practical, affordable way, that is accessible to all people and not just the few; to make places that are immensely useful and beneficial, that stand up over time, and have a worth and value exceeding one's initial investment or expectations.
To achieve these goals, we have developed over the years, unique processes and methods that bring together art / design, social factors, skilled construction, and financial management / cost control, into a single system—a system that generates beautiful places for life. Furthermore, we actively encourage and foster the advancement and professionalism of the building trades (subcontractors / craftsmen); and as a consequence, we work with only those companies recognized to be among the best—the most skilled, reliable, and cost effective, in the region. The masterbuilder approach, offering a wide range of design-build services, is what makes everything here possible.
Our firm is insured and bonded, with operations occurring throughout the Charlotte area and surrounding counties. Our clients cover a wide economic range, from very moderate means to upper income levels; and the projects we do range in size and budget, from small to large. An initial consultation by appointment is without charge.
Because the public is surrounded by so many advertising claims, we feel compelled, in all sincerity and soberness, to end with the following statement: Our presentation is not a marketing gimmick—we are the ancient masterbuilder, and our methods form the record of history. This 5,000-year old profession, we now advance forward into the 21st century. Our organization stands ready to fulfill a genuine service to you in love, respect and dignity.